AIM-120 AMRAAM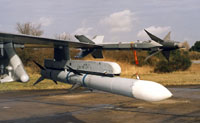 AIM-120 AMRAAM (Advanced Medium Range Air to Air Missile) er en ny generation af luft til luft missiler. Det har all-weather, beyond-visual-range capability og der regnes med at det forbliver operationel et godt stykke ind i år 2000. Missilet indeholder en aktiv radar og et inertinavigationssystem og en mikro computer, der gør missilet mindre afhængigt af flyets fire-control system. Når missilet nærmer sig målet overtager missilets radar og flyet kan koncentrere sig om andre opgaver.





Karakteristika
Primary Function: Air-to-air tactical missile
Contractor: Hughes Aircraft Co. and Raytheon Co.
Power Plant: High performance
Length: 143.9 inches (366 centimeters)
Launch Weight: 335 pounds (150.75 kilograms)
Diameter: 7 inches (17.78 centimeters)
Wingspan: 20.7 inches (52.58 centimeters)
Range: 20+ miles (17.38+ nautical miles)
Speed: Supersonic
Guidance System: Active radar terminal/inertial midcourse
Warhead: Blast fragmentation
Unit Cost: $386,000
Date Deployed: September 1991



AGM-65 Maverick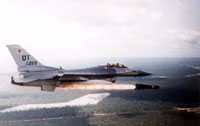 AGM-65 Maverick er et taktisk, luft til jord guided missil designet til close air support, interdiction og defence suppression missions. Det giver stand-off capability og stor træf-sikkerhed mod et bredt spekter af taktiske mål, inklusiv panser, luftforsvar, skibe og brændstofdepoter.
Maverick A og B modellerne har et elektro-optisk kamera guidance system. Piloten får præsenteret et tv billede i cockpitet ved hjælp af dette kamera og kan så "låse" på det ønskede mål. B modellens kamera har bedre opløsning, hvilket gør identifikationen af målet lettere.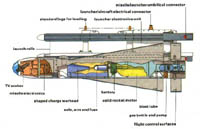 Maverick D har et infrarødt søge system som giver et infrarødt billede af målet i cockpittet. Derudover fungere det på samme måde som A og B modellerne, men har altså også mulighed for at operere om natten.
Maverick G modellen som er den type vi anvender i Danmark har samme guidance system som D modellen, dog med visse software modifikationer der gør det muligt at låse på større mål. Derudover har G modellen et specielt warhead (heavyweight penetrator warhead) der fx gør det muligt at gennemtrænge skibsmål og bunkere.

Karakteristika

Primary Function: Air-to-surface guided missile
Contractors: Hughes Aircraft Co., Raytheon Co.
Power Plant: Thiokol TX-481 solid-propellant rocket motor
Launch Weight: AGM-65A/B, 462 pounds (207.90 kilograms);
AGM-65D, 485 pounds (218.25 kilograms); AGM-65G, 670 pounds (301.50 kilograms)
Diameter: 1 foot (30.48 centimeters)
Wingspan: 2 feet, 4 inches (71.12 centimeters)
Range: Classified
Speed: Classified
Aircraft: Used aboard A-10, F-15E and F-16
Guidance System: AGM-65A/B, electro-optical television; AGM-65D/G, imaging infrared
Warheads: AGM-65A/B/D, 125 pounds (56.25 kilograms), cone shaped; AGM-65G, 300 pounds (135 kilograms) delayed-fuse penetrator, heavyweight
Unit Cost: $17,000 to $110,000 depending on the Maverick variant
Date Deployed: August 1972